Weight Watchers Spicy Chicken Chili that's made in the slow cooker couldn't be easier to make and is really delicious. With just enough spice, plenty of veggies, and lean ground chicken you will love all the flavor without any guilt.
Jump to Recipe keyboard_arrow_down
226 CALORIES

15g CARBS

4g FAT

31g PROTEIN
0
Freestyle™ SmartPoints™ New!
(4 Old SmartPoints™)
(5 PointsPlus®)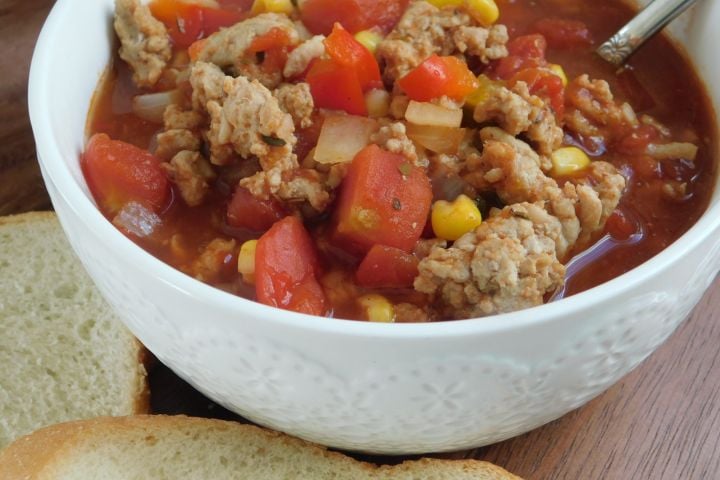 Zero Point Weight Watchers Spicy Chicken Chili Recipe
Zero Point Chicken Chili is packed with lean ground chicken, peppers, onions, and corn for a hearty chili that is only 226 calories and zero Freestyle Smartpoints. You also love this zero point Cabbage Soup and zero point Taco Soup.
I don't know about you, but the minute the new Weight Watchers zero point food list came out, I couldn't wait to make some zero point chili. Now, to be honest, having a hearty soup like these with 0 points made me a bit nervous. However, I was pleased to discover that after having about 2 cups worth for dinner, I wasn't hungry and didn't feel the need to snack. There is something to this new program that seems to be making sense.
The other amazing thing about this chicken chili is that it can be easily prepped in advance and used for meal prep. I like to make a big batch and then I put half in the fridge and half in the freezer. That way I can pull it out a few weeks later when I am in need of a quick and low point meal. It's a life saver for me when dinner time rolls around and I just don't want to cook. Instead of ordering take-out, I can reach for this soup. Good on the waistline and the wallet.
The other thing I can't stress enough when it comes to this Weight Watchers chili is not to shy away from the toppings! There are so many options. You can go the traditional route and add some shredded cheese, fresh diced onion, cilantro, avocado, or sour cream. You can also add crunch with some baked tortilla chips or Fritos. Fritos and cheese are some of my favorite things for chili and since this is zero points, I don't mind splurging on some Fritos. I just buy a snack size bag so I am not tempted later.
Also for long time readers, this is a recipe we shared last year. However there have been so many requests for low point/zero point soup options, we wanted to share it again!
Now let's talk about this chili. It's packed with tomatoes, peppers, onions, lean ground chicken, and plenty of spices. I left out beans since I am just not a fan. But you could definitely add in some black beans, kidney beans, or pinto beans to make a more traditional chili. Plus since they are zero points, you don't have to worry about that if you are on WW. In terms of spice, this actually isn't that spicy of a chili even with the Frank's, cayenne, and chili powder. You can either bump it up with more or tame it by using less or eliminating the hot sauce and cayenne completely. Lastly, this chili freezes well so don't be afraid to make a nice big batch. You'll be happy to have it for quick meals in the future.
Tips for Making Weight Watchers Chili with Chicken
You can use 99% lean ground chicken or turkey for this recipe. Ground beef or ground turkey sausage would also work but it will no longer be a zero point soup. You could also use chicken breast. Just chop or shred it once it finishes cooking.
To deepen the flavors, saute the peppers and onions with the chicken before adding them to the slow cooker.
For a more traditional Weight Watchers chili, add your favorite beans to the mix. Kidney beans are typically used in chili but anything will work. You can use black beans, pinto beans, white beans, or a combination. And since beans are zero points, this doesn't change the points.
Think outside the box! This chili is really tasty as a soup but can also be used in all types of recipes if you use a little less broth. Consider scrambling it into eggs, adding it as a topping to a baked potato, making some sweet potato nachos, or serving it over spaghetti squash with some melted cheese.
A good bowl of chili needs some toppings. Consider adding cilantro, green onions, Greek yogurt or light sour cream, cheese, baked tortilla chips, or avocado.
For an easy shortcut, swap in some store-bought taco seasoning for all the spices. It will make this into a taco chili since it brings in those taco seasoning flavors. 
Some readers suggested adding a packet of Ranch seasoning to this as well! Mind blown. Just watch out for the sodium content because this will really kick things up, especially if you are using taco seasoning as well.
This WW chili recipe freezes great so make sure to make enough to freeze the leftovers. You will thank me when you need a low point meal in a hurry.
Source link